Forgive me, Blogger is having a hard time today. I hope this post comes out alright.
I had a productive weekend, working on many projects. Nothing finished though!
Here is my version of the strings quilt. I started this and then the next day went around the blog ring, and everyone was doing these blocks!
I started these blogs in Sept. 2006 at a class with Billie Lauder. I am quilting as I go, so you may be able to see some quilting on some blocks. I put four strings blocks together to make a 12 inch block. Then I put four of those together in a row, and then quilt that row. Then I will put the rows together, like in Keryn Emmersons book, Beautiful Quilts As You Go. I am using a golden colored rayon thread to quilt because my son liked it so much.
Here is another Billie Lauder project. She has a method of making a 16 patch where all the fabrics are in a different place in each block.
She shows this in More Quick Tricks. Anyway, I've had all the blocks done and put together and just needed to work on the pieced border. So I did all that border this weekend and added three sides of the final dark border. Uh, I don't know why I quit there and didn't do the other side. It is cut and ready to go but I just didn't feel like it. I added some fusible leaves to liven it up a bit, but I still don't know if I like this quilt.
And this is a photo titled "Wishful Thinking". This quilt is not finished yet, but maybe 2/3 done. I still have some quilting to go and the binding to add.
But I was impatient to see how it looks on the bed. I am handquilting this, 1/4 inch inside the light triangles. It will have 1000 triangles when finished (really, I counted, 40 each row x 25 rows). I love how this is turning out, because it is for ME! I started it in Nov. 2005. Oh, yeah, it is handpieced too.
I bought this quilt top on ebay, around Christmas. I think the pattern is called Star of Hope. Does anyone know for sure? The blocks are about 15 inches square and there are two different pink prints and muslin. All handpieced.


Ok, now here is the story about Blankie. I bought this quilt before I was a quilter for my daughter.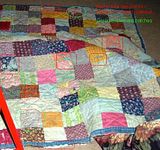 She never really took to it. However, my son, born almost three years later, carried it around like Linus. As you can tell, five years later is was worn OUT! It would not go thru another wash. DS and I discussed what we could do with Blankie to make him last longer. Should we make him into a pillow? Put him away for good? What to do? DS came up with the idea to make him a sleeping bag. So here is Blankie in his sleeping bag. However, I quilted the blanket in, so it is stuck! DS loves that he can stick his fingers in these holes to make sure Blankie is still in there.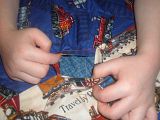 DS chose the fabric and since well, I was just a little bit short of the blue train fabric, there is a stripe of white trains. Notice the theme? My DS in NUTS about trains. Is that just a boy thing???