I made a few extra (seven) blocks when making this quilt, not having thought out how big I really wanted the finished wall hanging. So I used the finished blocks, added a hand drawn butterfly block and made a baby quilt.


***
When making these string blocks I pieced squares and then used a template to trim the corners in order to have string pieced triangles. I used these triangles to form the anvil points.
***
The hst's were from a swap, cream and scrappy. I love love love this quilt. I had quite a few hst's left over.
I made a bunch of four patches for this pattern but then decided I didn't like it, that the pattern was too hard to decipher. So I had a lot of four patches three light and one dark, and three dark and one light. So when I saw this pattern I thought of those unused pieces and viola!
***
When cutting these triangles from 5" squares I got funny long triangles pieces. So I put the light and dark pieces together and made these star points. Nice little quilt, already finished and given away. And the 1000 Pyramids? Still being hand quilted. Almost finished though.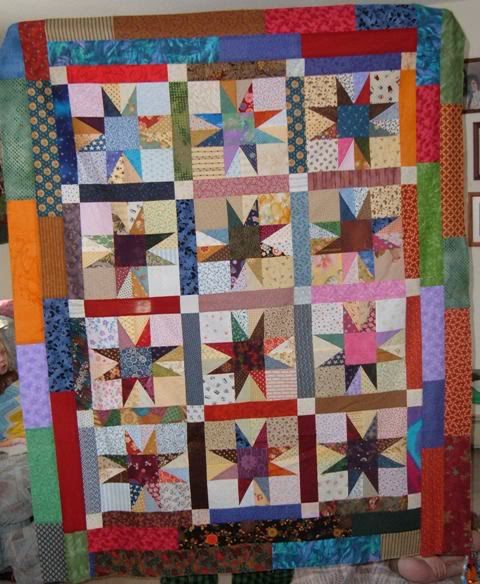 ***
A friend Eileen sent me these four patches all in different colors. I put like colors together and added some sashing to make large blocks of the same color families. This is such a cheerful quilt.